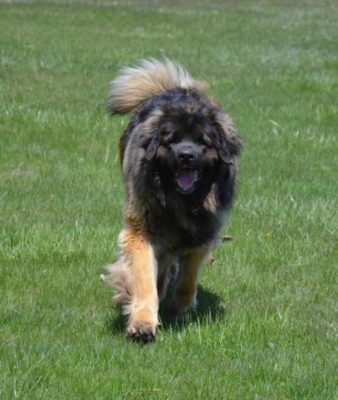 CH Giulia Von Dreiburgenland CGN (Addie)
Another sweet German girl, Addie had the "H" litter. We called it the "Holy Moly" litter – fifteen puppies!!!!
Sadly, our beloved girl passed in her twelfth year. We miss this matriarch everyday!
 GCH Sionnarush Wehra( Bridget)
A lovely big boned girl – with a heart of gold! She easily attained her Grand Championship
CH Rua Soleil Hashi Hikaryu ( Hashi)
A very beautiful Russian girl .Great temperament and a" dog talker".
 CH CR Pura Vida CGN ( Phoebe)
Phoebe is Edie and Schubie's daughter . She was best youth bitch at the LCA show as well as reserve open bitch. Quite an accomplishment at only 11 months old!
Health Testing
The Leos in our breeding proram are health tested. OFA hips and elbows are xrayed.  Hips must be rated Good or Excellent and elbows rated Normal to be considered for our breeding program
Hearts and Eyes are certified .
All dogs must be LPN 1 & 2 clear as well as LEMP free. We do not breed carriers.
The Future
 CH CR Always Believe(Emma)
The very pretty daughter of Bridget and Rory- she adores children and cats!
Tefills Grid ( Hoda)
Another big boned Russian girl with a truly joyful temperament.
 CH CR Bambina Mia ( Savannah)
Tall girl with a lovely head whose main purpose in life is to play with Hoda and chase birds!
CH. Teffills Enikei ( Zurich)
Our boy "Zuri" just turned 18 months old and is a big, strong boy with an amazing temperament! He won Best Puppy at the Canadian Specialty in June. We are looking for forward to showing him next year! Zuri is now a Canadian Champion
 CH.CR Just Imagine ( Greta)
Greta-the outgoing daughter of Emma and Daniel.Sweet and beautiful! . Greta has attained her Canadian Championship and received a group placing at 18 months!
CR. Quite the Guy Taffer ( Taffer)
Taffer is a Hashi/ Zuri son. At 14 months he weighs in at 170 lbs. Big and loveable – he has just started his genetic testing.
CR Unforgettable Trebek (Trey)
Our latest addition. Trey is an Emma /Daniel son. Trey has an outgoing and happy little boy. We are having such a good time watching him develop.